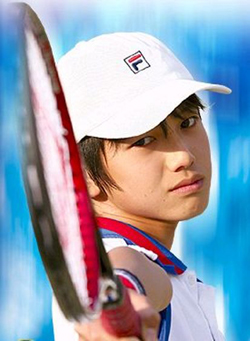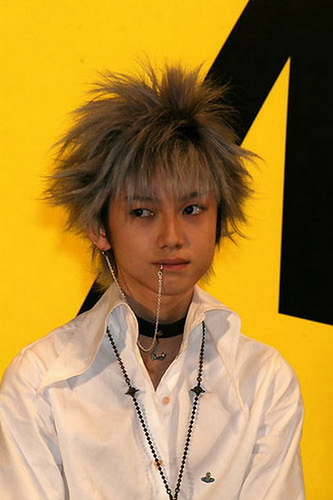 Kanata Hongō (本郷 奏多) (born November 15, 1990) is a Japanese actor and model who has appeared several times in music videos, movies, TV series, and magazines. His major breakthrough role was as the anime character Ryoma Echizen in the film adaptation of The Prince of Tennis, and became even more widely known when he was cast as Shin in Nana 2. In television, his most notable role was as Hinata in Himitsu no Hanazono and recently he starred in Seigi no Mikata.
Hongō has appeared in several movies, including Moon Child, which also starred Gackt, Hyde and Wang Lee Hom. Hongō played the role of Sho as a child, while the adult role was played by Gackt. He appeared in a movie called Hinokio which was released in July 2005 in Japan. Hongō is also the young boy in the singer Yui's music video for her song "Tomorrow's Way." In 2006, Kanata was cast as the popular anime character Ryoma Echizen in the live-action adaptation film of The Prince of Tennis. He joined the majority of the Seigaku Regulars of the Prince of Tennis musicals as he was replacing Kotaro Yanagi, who couldn't play the role due to a car accident he was involved in.
Hongō also portrayed the young bassist Shinichi Okazaki in the movie Nana 2, which was released in Japan on December 9, 2006. He had replaced Ken'ichi Matsuyama who had previously played Shin in the first Nana film. His next feature film was alongside Michael Pitt and Keira Knightley in Silk which was screened at the 2007 Cannes Film Festival. This marked Hongō's first appearance in an English language film, where he played a Japanese servant boy. He also starred in another music video, B'zs "Eien no Tsubasa" along with Tsubasa Honda and in GReeeeN's music video of "Namida Sora".
In television, Hongō's first major role was as major supporting character Hinata in Himitsu no Hanazono and performed a wonderful tear jerking moment in one of the later episodes. His superb job in acting lead him to being another major supporting character in the drama Seito Shokun! as rebellious student Kohei Aoki. Later, he appeared as a guest in two other shows. He is currently starring as Riku Okamoto in Seigi no Mikata, broadcasted by NTV. He said Okamoto was probably his most normal role to date.
Hongō is due to star in three films in late 2008. They include Aoi Tori, K-20: The Fiend with Twenty Faces and Goth. The latter two are released in Japan on the same day, December 20.
__________________________________________________
MOVIES
Year/English Title/ Japanese Title / Role
2002 Returner /リターナー Ritana as Young Miyamoto
2004 Moon Child / Moon Child as Young Sho
2005 Hinokio: Inter Galactic Love / ヒノキオ Hinokio as Satoru Iwamoto
Until the Lights Come Back / 大停電の夜に Daiteiden no yoru ni as Shota
2006 The Prince Of Tennis / テニスの王子様 Tennis no oujisama as Ryoma Echizen
Nana 2 / ナナ2 Nana 2 as Shinichi Okizaki, "Shin"
2007 Silk / シルク Shiruku as Japanese Servant Boy
2008 The Blue Bird / 青い鳥 Aoi Tori as Shinichi Sonobe
K-20: The Fiend with Twenty Faces / K-20 怪人二十面相:伝K-20:Kaijin niju menso den as Yoshio Kobayashi
Goth / GOTH as Itsuki Kamiyama