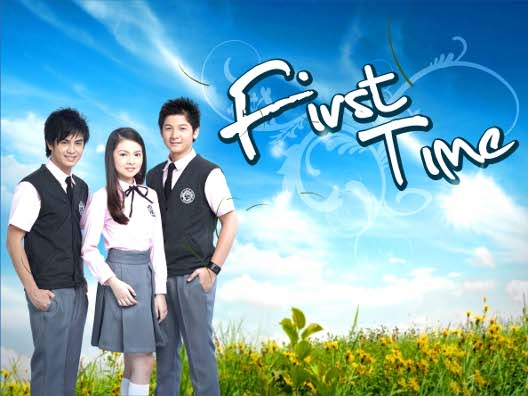 First Time is a teen-Philippine drama developed by Kit Langit and directed by Andoy Ranay.[1] The series premiered on GMA Network on February 8, 2010 starring Barbie Forteza and Joshua Dionisio, who were previously paired in Stairway to Heaven and Dear Friend: My Christmas List.[2]
Sypnosis
Cyndi and Lukas are a couple of teenagers who met one summer at the beach. Their new-found friendship is immediately put to the test after Lucas' mother dies from a mysterious accident, which resulted in his father's decision to live abroad. And just like that, Cyndi and Lukas, albeit unwillingly, said their goodbyes.
Two years later, Lukas returns to the country and enrolls in the same school as Cyndi's.For a while, the two try to rekindle their friendship only for Cyndi to find out that the Lucas from that memorable summer is no longer there. Lukas, once a cheerful and fun-loving boy, has grown to become so quiet, and detached from everyone including Cyndi.
In the long run, with the help of Cyndi and her bestfriend Baste, Lukas will eventually come to terms with the tragedies in his life. All three of them become inseparable – even Lukas and Baste, who have little in common besides sharing a love for Cyndi – spending most of their time at Baste's, whose lowly family finds happiness in music.
Cast and characters
* Barbie Forteza as Cyndi Gomez
* Joshua Dionisio as Lukas Infante
* Jhake Vargas as Sebastian "Baste" Luna
* Jhoana Marie Tan as Sara Santiago
* Bea Binene as Natalie Dimaculangan
* Mark Castillo as Daniel Olivia
* Lucho Ayala as Jimbo Dimaculangan
* Manilyn Reynes as Laura Luna
* Joross Gamboa as Coach Ted
* Roxanne Barcelo as Ms. Tessa
* Romnick Sarmienta as Marcel Luna
* Michelle Madrigal as Valerie Gomez
* Ian Veneracion as Robert Gomez
* Ana Capri as Hilda Gomez
* Cris Villanueva as Ben Gomez
* Eric Quizon as Jaime Infante
* Gabby Eigenmann as Oh
* Sheila Marie Rodriguez as Doris Santiago
* Alicia Mayer as Ms. Dimaculangan
* Bayani Agbayani as Raffy Santiago
* Mel Kimura as Ms. Ida
* Ricci Chan as Sir Pete
* Deborah Sunas Principal Liza
* Homer Joseph Montevirgen as Robin Gomez
* Rosbel Zabala as Kevin Gomez